FAMILY DOG PRESENTS
A Chet Helms Tribal Stomp. A Day of Music In
Golden Gate Park,
October 30, 2005.


It was a flash back to the Summer of Love on Sunday, October 30th, in Golden Gate Park when the Family Dog held a all-day free concert featuring many configurations of Bay Area bands from the 1960s. The event was held to remember and celebrate the life of Chet Helms who passed away this past June at the age of 62 from health problems.

San Francisco Chroncile music critic Joel Selvin said it best in the in the newspaper's Oct. 29th edition. "At the height of the exploding rock scene, Helms was the anti-Bill Graham. While Graham quickly and correctly ascertained that there were big bucks in the rock concert scene, Helms saw greater possibilities than money. He saw the music's power to bring people together. He understood the joy of dancing as a political statement. He was trying to change the world, not sell hamburgers," Selvin wrote. "His ceaseless energy, his drive to be part of the action, made him one of the original engines of the scene, whether he was rushing out to borrow a strobe light for the scene's first acid-rock dance at Longshoreman's Hall or inviting his old pal from the University of Texas, Janis Joplin, out to San Francisco to join the band he was managing -- and that had been named after him -- Big Brother and the Holding Company. But what's more important about Chet was that he never lost his way. He lived by the code and his life stood for something."



This is a closeup of the Family Dog logo that hung on the stage during the performances.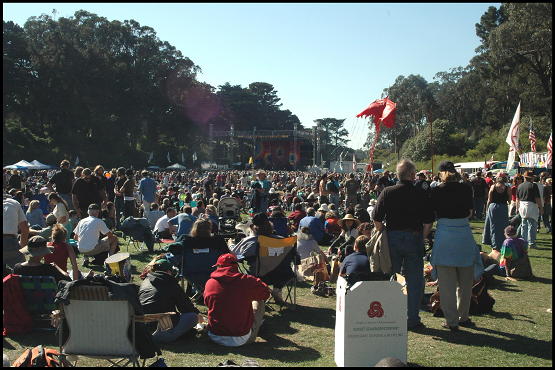 The show started at 10 a.m. But I drove cab until 4 a.m. the night before, so didn't arrive at the show until 1 p.m. Among the acts I missed were the Rowan Brothers, Dan Hicks and His Hot Licks, The Charlatans, Country Joe McDonald and Barry Melton.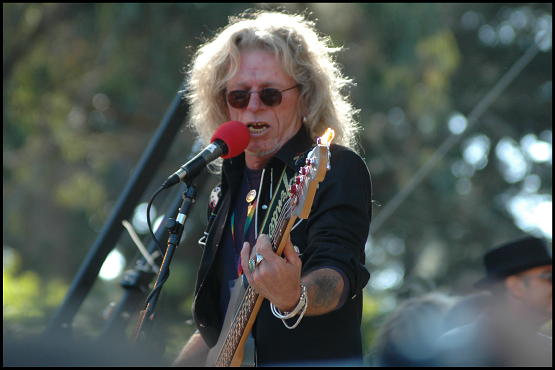 Playing lead guitar and singing vocals Dickie Peterson fronted the band Blue Cheer. The band was formed in 1968 and named after a potent form of LSD.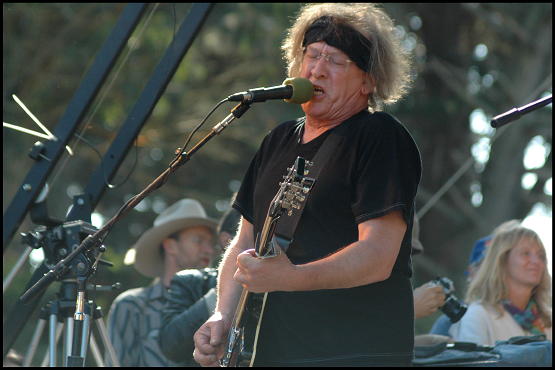 Paul Kantner opened the Jefferson Starship's set with "Volunteers."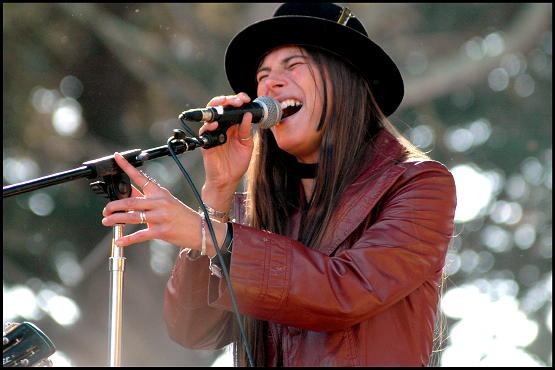 Jefferson Starship vocalist Diane Mangano sang lead on "Somebody to Love."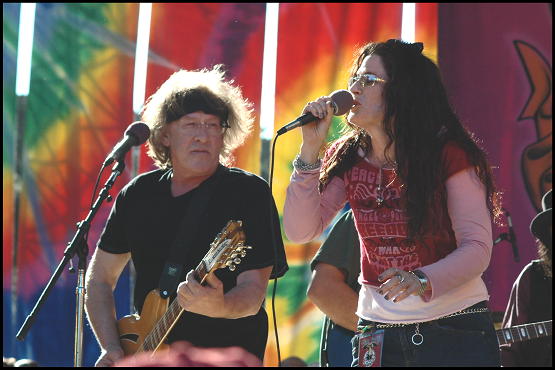 Kantner (left) glances at Darby Gould as she sings "White Rabbit."


Left to right, David Frieberg gets some help on the 1960s classic "Get Together" from Linda Imperial and Diane Mangano.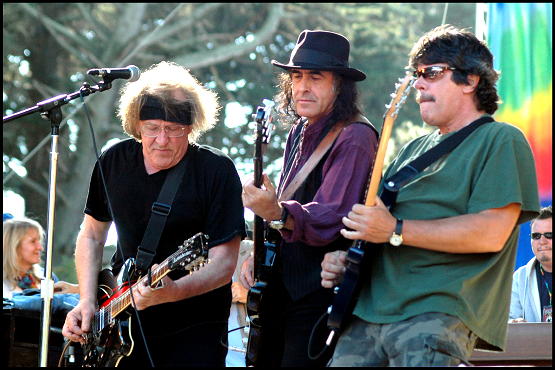 Left to right, Paul Kantner, Pete Sears and Slick Aguliar jam together on the Airplane classic "The Other Side of This Life."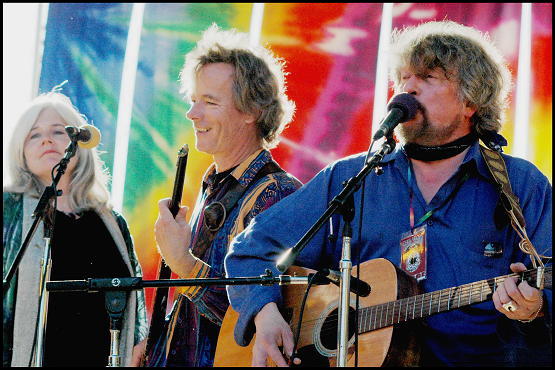 The group Natural Act performed next.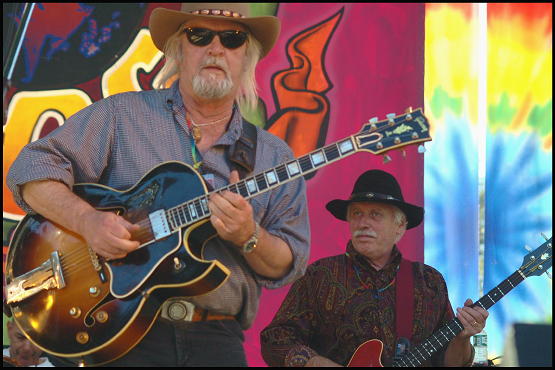 Jerry Miller (left)formerly of Moby Grape jammed with The Jerry Miller Band.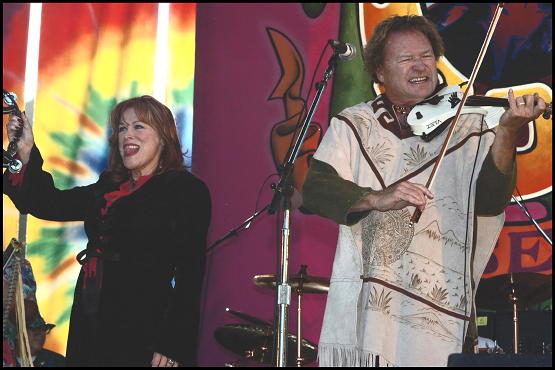 It's A Beautiful Day members David and Linda LaFlamme opened their set with "Hot Summer Day."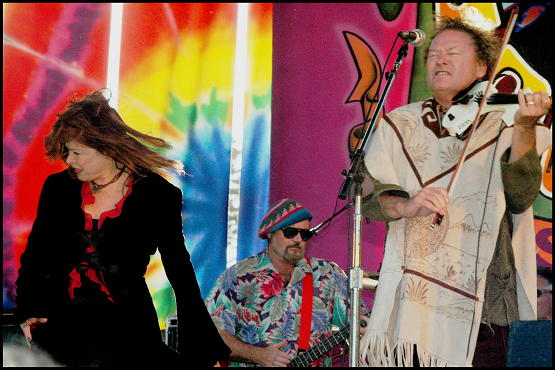 Linda and David LaFlamme perform It's A Beautiful Day's biggest song "White Bird."


Ninety-year-old folksinger Faith Patrick performed a short, but vibrant set.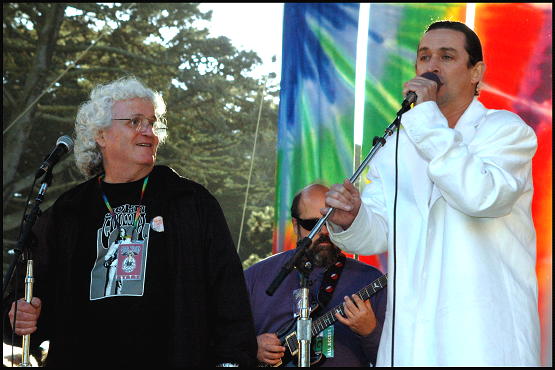 Original Quicksilver Messenger Service member David Frieberg (left)watches as the late Dino Valente's son, Joli Valente reprised his father's song "Fresh Air" in his new band Quicksilver Gold .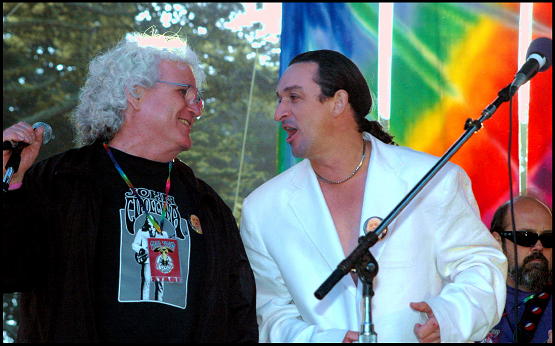 Frieberg (left) and Valente performed "Get Together" together. Looking at this photo I can really feel there is a friendship here. Frieberg must have known the younger Valente his whole life.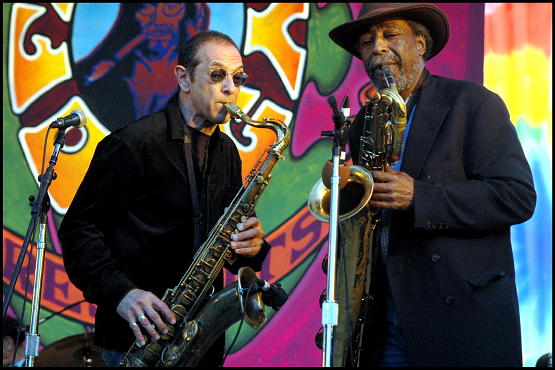 A new version of Canned Heat with Fito de la Parra (left) and a guest on sax performed "Going Up The Country."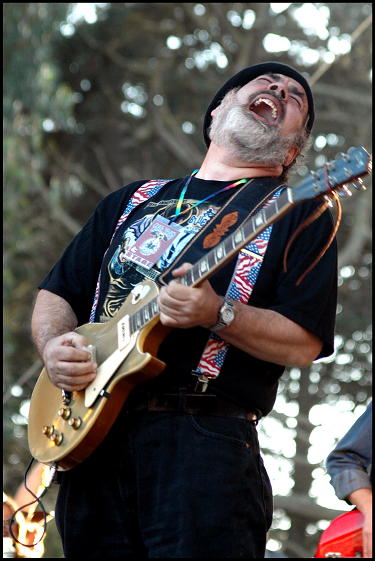 Canned Heat features Dallas Hodge on guitar and vocals.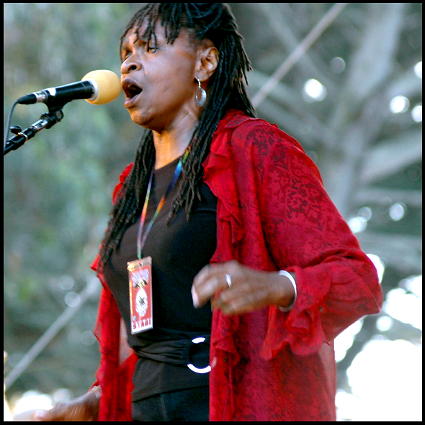 Stoneground vocalist Annie Samson sang a beautiful version of Bob Dylan's "It's All Over Now Baby Blue."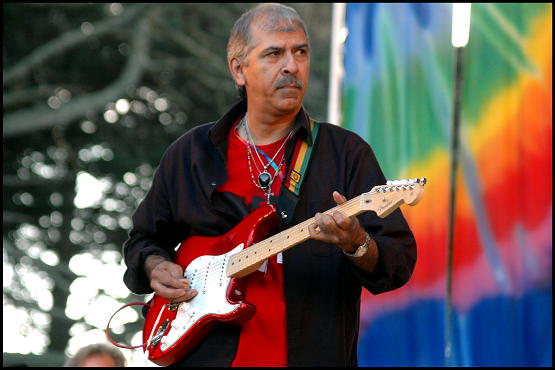 Jorge Santana lead an all star band with included members from Sly and the Family Stone, the Steve Miller Band and other Bay Area groups.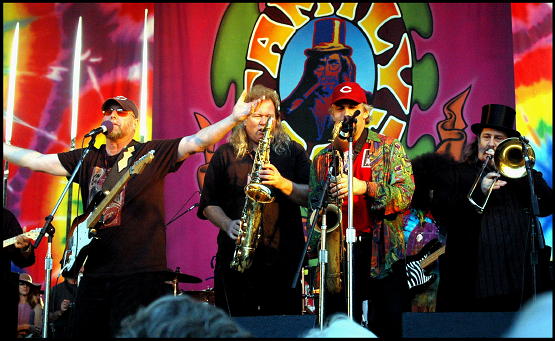 Tweleve musicians played in this "all star" jam.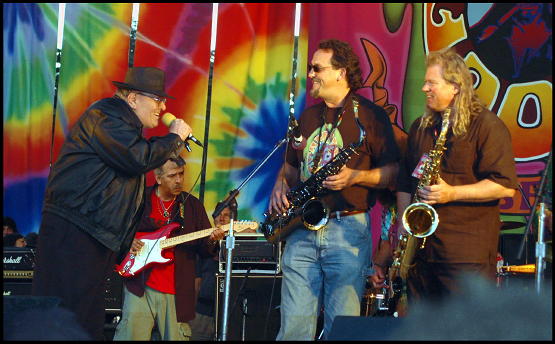 Blues legend Nick Gravenites (left) joined the band near the end of their set.



Lydia Pense of Coldblood rocked the stage with her vibrant vocals.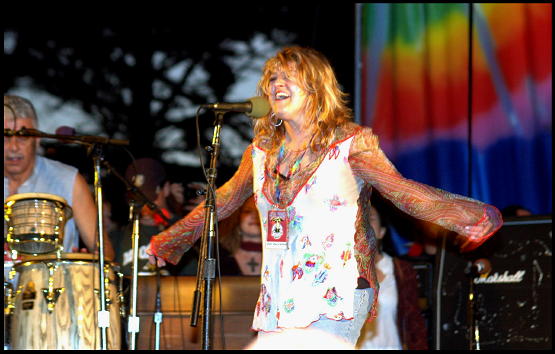 Lydia Pense of Coldblood still performs at Bay Area clubs.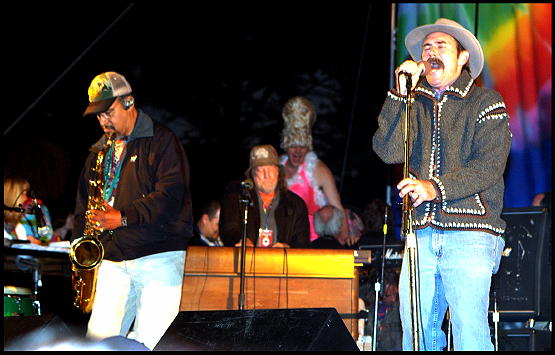 The group Zero performed near the end of the show. The Grateful Dead's Vince Welnick played keyboards with the band.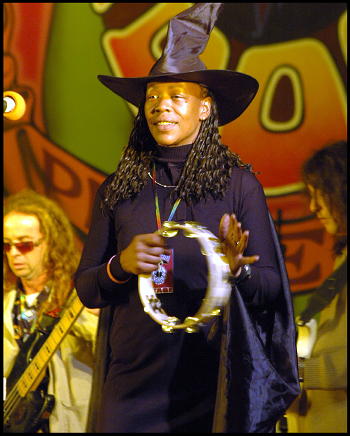 Zero tambourine player performs with an elaborate costome.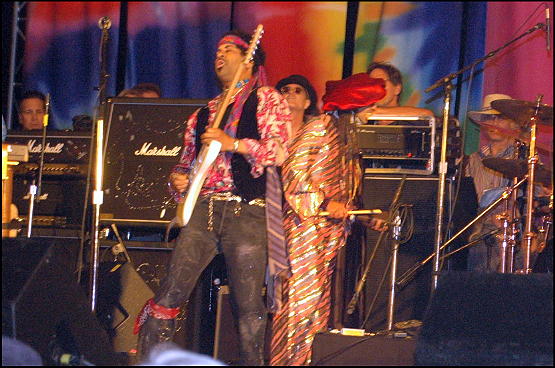 The show closed with a tribute to two Bay Area rock legends. A Jimi Hendrix look-a-like performed "Purple Haze" in addition to other Hendrix classics.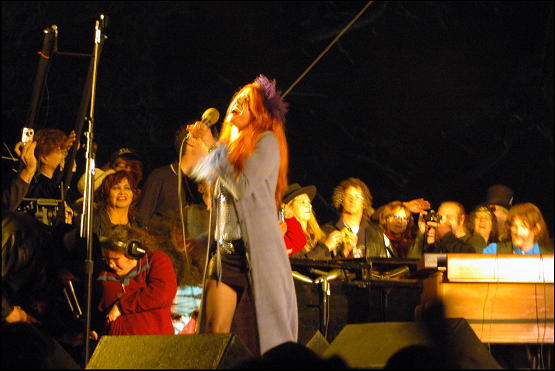 What would a tribute to Chet Helms be without someone performing Janis Joplin's biggest song "Pierce of My Heart."

BONUS PHOTOS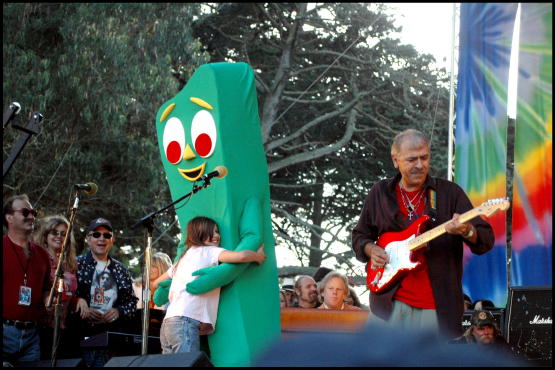 Here are a few bonus photos I like, but didn't have a place for in the sequence above. A girl gives Gumby a hug while Jorge Santana performs.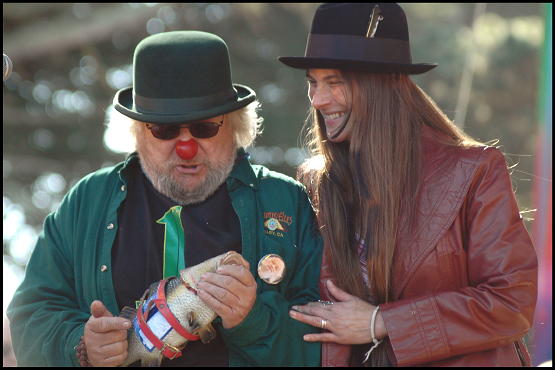 Wavy Gravy (left) and Diane Mangano share a moment together during Jefferson Starhip's set.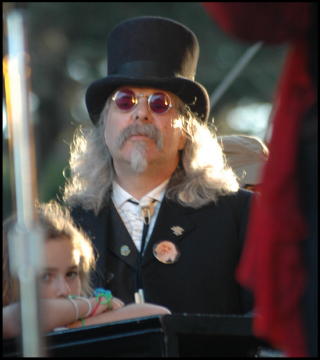 I don't know who this guy is, but he looks as if he just walked out of the 1960s. Come to think of it, I kind of miss that decade.

WELL THAT'S ALL FOLKS! HOPE YOU ENJOYED THE PHOTOS. DROP ME AN E-MAIL AND TELL ME WHAT YOU THINK. PEACE, PHIL.