DIANNE FEINSTEIN WINS THE SENATE RACE,
NOVEMBER 1994
Former San Francisco Mayor Dianne Feinstein won the senate vacancy in 1992 after Pete Wilson left his seat to become California governor. Two years later she ran against Michael Huffington, a Republican millionaire from Santa Barbara, to win a full six year term as Senator. I shot the following photographs at Finestein's campaign headquarters at the Fairmont Hotel, San Francisco, election night in 1994.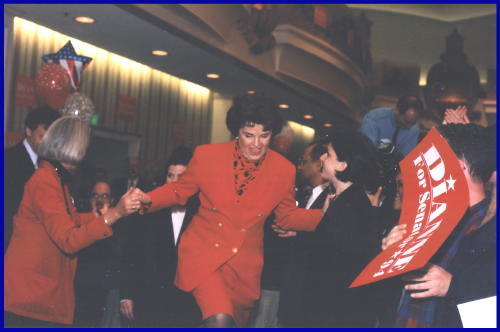 Dianne Feinstein is helped onto the stage at the Fairmont Hotel in San Francisco.



Finestein has a big smile for her supporters.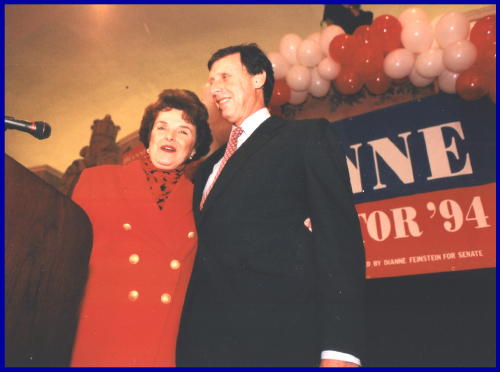 With her husband, Richard C. Blum, at her side, Feinstein smiles as the crowd cheers.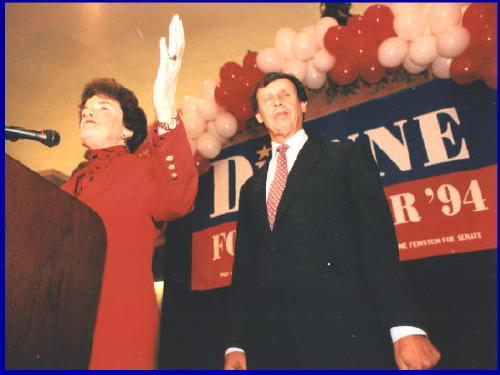 Feinstein gives her opening remarks to the cheering crowd as her husband Richard C. Blum watches.



Feinstein is the first woman elected U.S. Senator from California.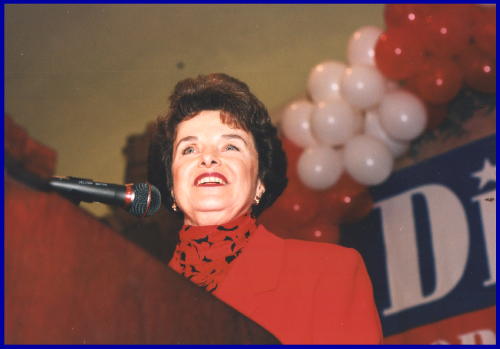 San Francisco native Dianne Feinstein speaks to a roomful of supporters at the Fairmont Hotel on Nob Hill. Feinestein was about to announce her retirement from politics in November 27, 1978, but her plans changed when San Francisco Mayor George Moscone was fatally shot. As President of the San Francisco Board of Supervisors, Finestein became the acting mayor. The following year she won the election for San Francisco Mayor.