WOODSTOCK 99,
UPSTATE NEW YORK,
JULY 1999
When my Godfather's son Keith Ganci asked me to go to Woodstock 99 with him and his friend Mike Zobel, I remembered the first Woodstock and thinking how this new one might be fun. It was going to be a three day festival in upstate New York. I knew I wanted to take some photographs, but I did not want to worry about my Nikon cameras and equipment at the festival. So I purchased an inexpensive Kodak CameoEX point and shoot. I figured if I was a decent enough photographer I would be able to get decent feature shots of the three day experience.
The amazing thing about Woodstock 99 to me was not the fact that over 250,000 people came together for a three day rock festival, but the fact that we actually became one of the biggest U.S. cities for a few days. Being a city, we had infrastructure problems like a big city. The promoters did not plan correctly. There were not enough toilets and showers for everyone. The food was real expensive. Some concessions were charging $8 for a bottle of water. And at times the 100 degree heat was unbearable.
The music was very diverse. Some of the bands that played Woodstock 99 were Dave Mathews, Offspring, Sheryl Crow, Brian Setzler Orchestra, DMX, Metallica, Kid Rock, Willie Nelson,Jewel, Elvis Costello, Rage Against the Machine, Creed, Bush and the Red Hot Chili Peppers.


Keith Ganci (left) checks out the crowd as Mike Zobel gives me a glance.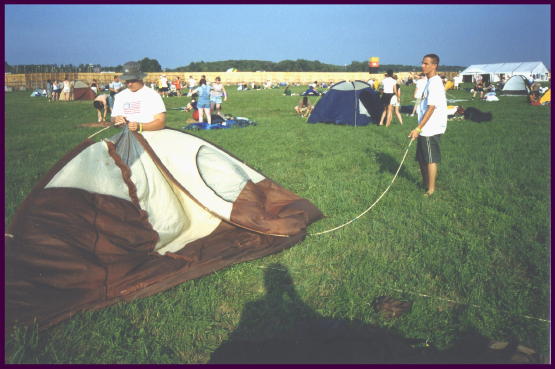 Mike (left) and Keith help put the tent up.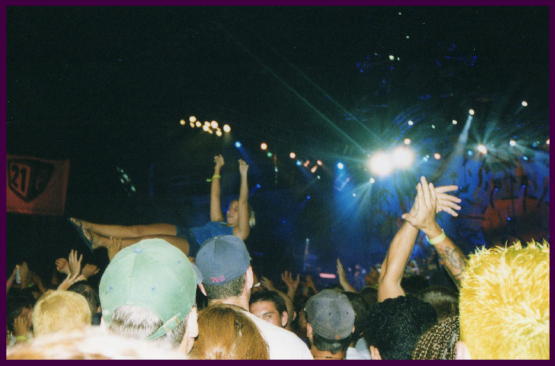 The night before the big acts played there was a rave in one of the big tents.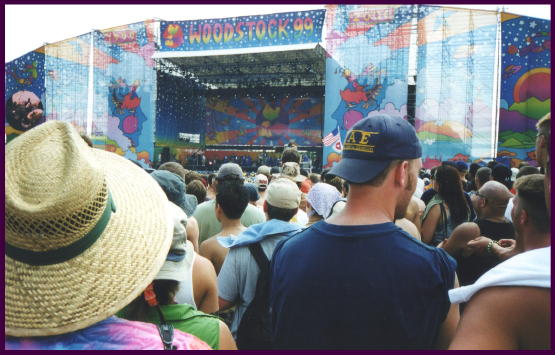 The next day James Brown and his band opened the show. Poster artist Peter Max designed the stage set.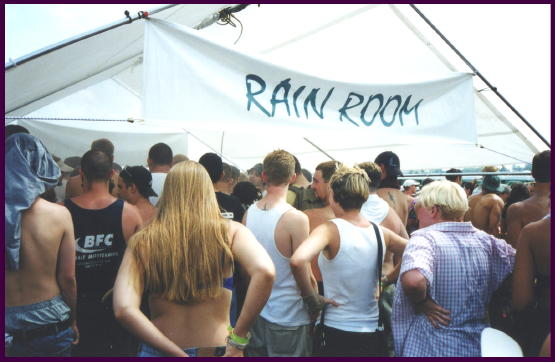 As the temperature reached 100 degrees, people gathered in the "rain room" to cool off.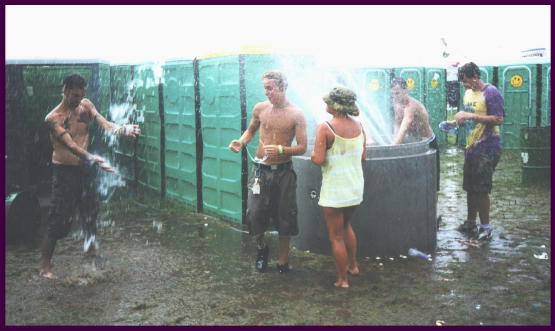 There were only a couple of showers for a couple of 100,000 people, so people had to take showers by the washing sinks.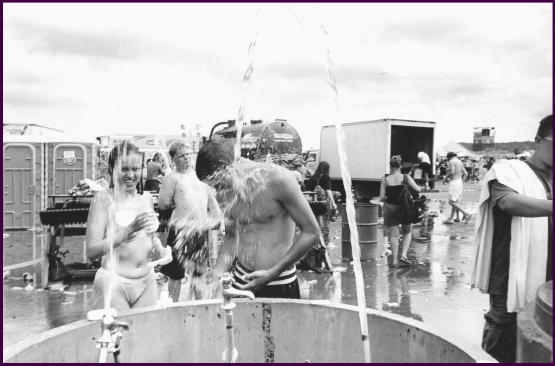 Keith takes a shower by the outdoor sink.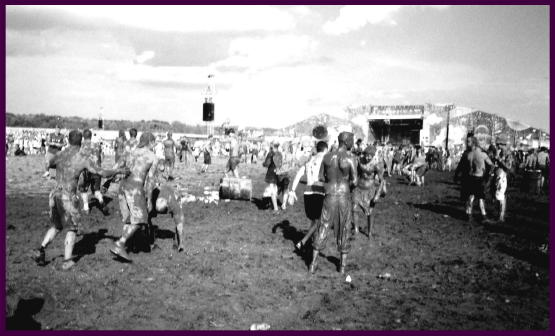 Near the end of the three days there was mud everywhere.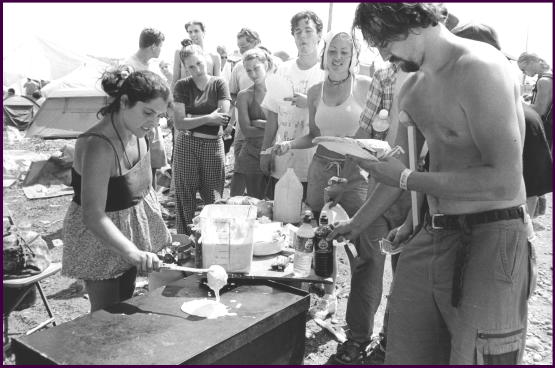 A woman started selling pancakes at reasonable prices to the hungry crowd.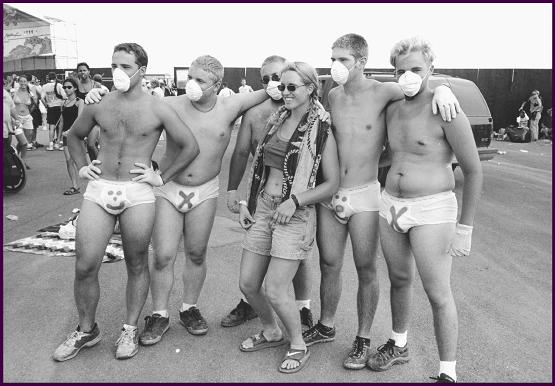 Hey, it's the underwear boys.


A woman in the crowd enjoys the music and warm day.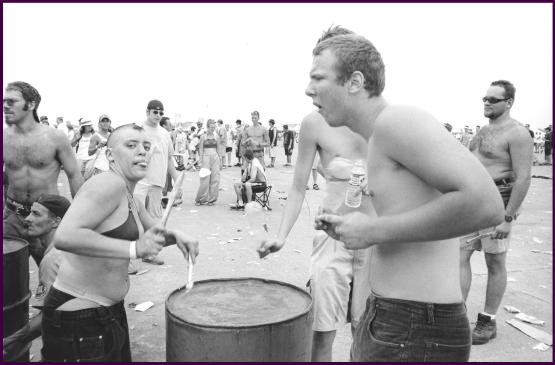 Some people discovered that upside down garbage cans make good drums.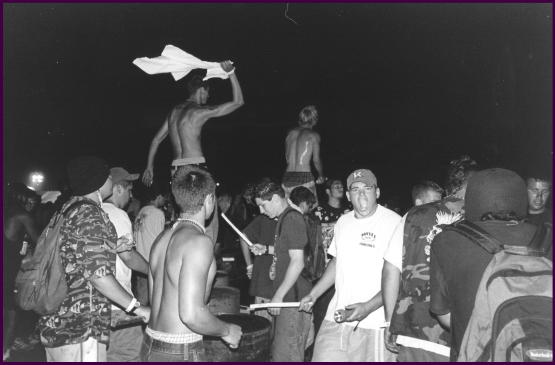 By the last night the crowd was real stirred up.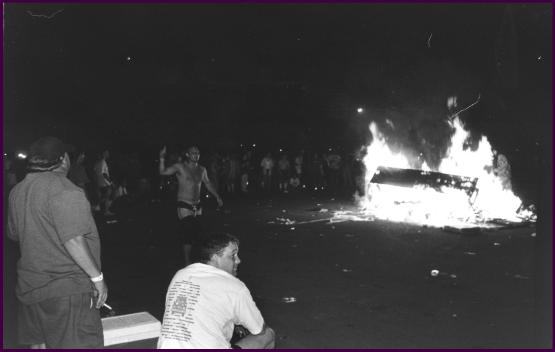 When the Red Hot Chili Peppers played the Jimi Hendrix song "Fire" it gave the crowd ideas.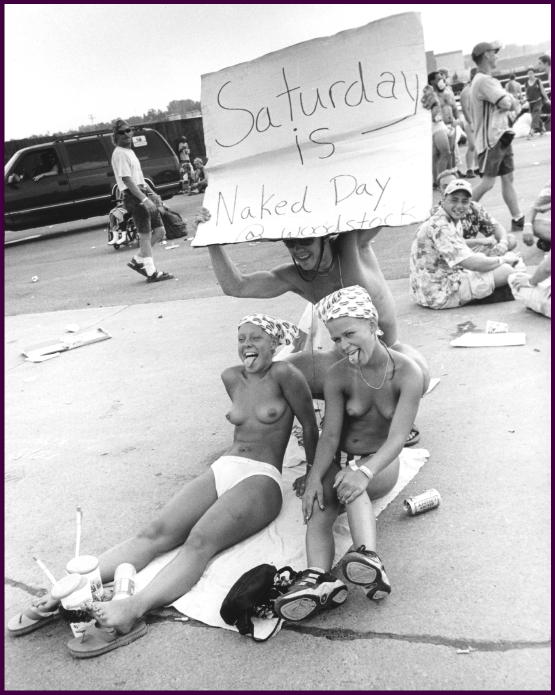 Hey, if they say that Saturday is naked day who am I to disagree.